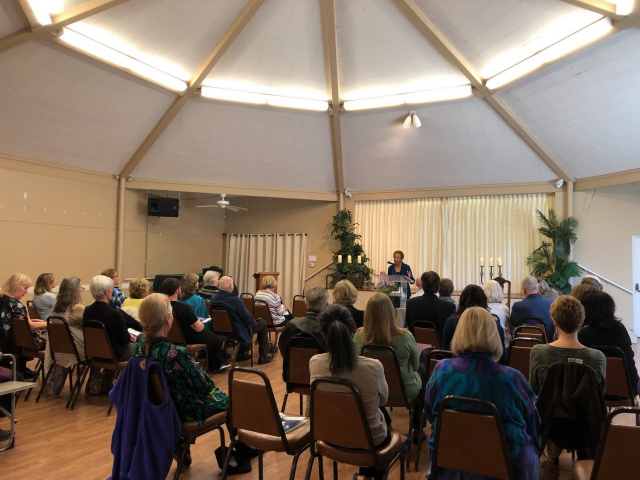 ---
A Message for You
Welcome! Are you ready to change your life? Are you ready for more happiness, more joy and more love? Are you looking for a non-judgmental positive group of individuals that come together in fellowship and community? Then my friends, you have come to the right place.
The Center for Spiritual Living Carlsbad provides the spiritual tools, support and practices to transform our lives and make the world a better place. We believe that as we change our thinking, we can change our lives.
Honoring all paths to God, we know that as we connect at a deeper level with Spirit, we are able to connect at a deeper level with others. That is just the beginning to greater happiness, expanded joy and increased love.
Get ready to embrace life at a new level as we wake up to our Divinity. Join us we support, guide and celebrate together this thing called life.
_______________________________________________________________
OCTOBER THEME: Discovering Yourself
OCTOBER AFFIRMATION:
I love who I am. I love who I have become. I continue to grow and evolve.
SUNDAY TALKS
Oct. 6th- "Who Am I Really?" with Rev. Ron Card
Musician: Tim Dismang
Oct. 13th - "Discovering Your Genius" with Dr. Matti Dobbs
Musician: Rick Dale
Oct. 20th - "The Wonderful Key" with Rev. Kate
Musician: Mark Romero
Sept. 22nd - "Surprise Yourself" with Rev. Ahmondra
Musician: Jen Hajj
* * * * * * * * * *
OCTOBER Classes & Events
POTLUCK & EXTRA SHOT: Music & Energy Group Healing Session with Mark Romero Sunday, October 20th @ 11:30. Internationally reknowned energy healer & musician Mark Romero takes you on an unforgettable musical journey of transformation, self-empowerment and expanded awareness. 3320 Monroe St., Carlsbad
******NEW CLASS!!!!
"5 Gifts for an Abundant Life" with Rev. Kate DuVivier - Thursday nights @6:30pm October 17th & 24th, November 7th, 14th & 21st, December 5th & 12th. 3039 Jefferson St. Suite D, Carlsbad Discover the GIFTS you can give to create a Consciousness of Wealth. GIFTS is an acronym for the 5 wisdom practices described in this guidebook to living a completely abundant life: GRATITUDE, INTENTIONS, FORGIVENESS, TITHING AND SURRENDER.
Rev. Dr. Matti Dobbs, Co-Spiritual Director
Rev. Kate DuVivier, Co-Spiritual Director
Rev. Ron Card, Staff Minister
Rev. Ahmondra McClendon, Interfaith Liaison
Please join us this Sunday for a meditation at 9:30 am and the Sunday Service from 10-11am. We will celebrate with fellowship and refreshments on the patio at 11 am after the service.
SUNDAY SERVICES:
3320 Monroe St., Carlsbad, CA 92008
From Interstate 5, Drive East on Carlsbad Village Drive Exit. Turn Right on Monroe Street. Go 0.3 miles. Go through stop sign at Basswood and 3320 is on the Left! Look for the CSL sign out front.