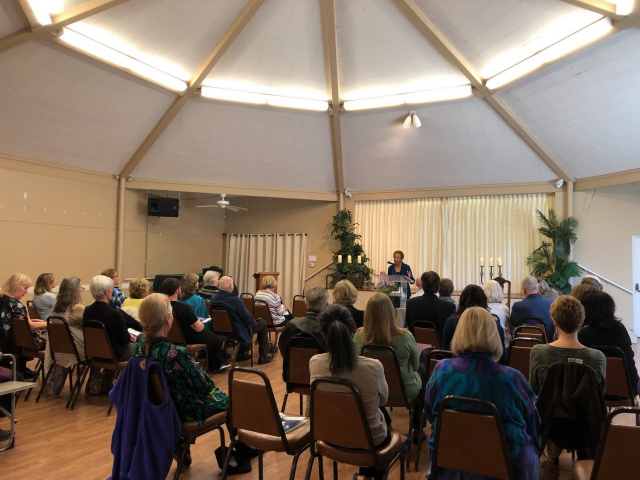 ---
A Message for You
Welcome! Are you ready to change your life? Are you ready for more happiness, more joy and more love? Are you looking for a non-judgmental positive group of individuals that come together in fellowship and community? Then my friends, you have come to the right place.
The Center for Spiritual Living Carlsbad provides the spiritual tools, support and practices to transform our lives and make the world a better place. We believe that as we change our thinking, we can change our lives.
Honoring all paths to God, we know that as we connect at a deeper level with Spirit, we are able to connect at a deeper level with others. That is just the beginning to greater happiness, expanded joy and increased love.
Get ready to embrace life at a new level as we wake up to our Divinity. Join us we support, guide and celebrate together this thing called life.
_______________________________________________________________
AUGUST THEME: Nurturing the Inner Self
AUGUST AFFIRMATION:
Being totally free from worries & cares is a feeling I practice every day. By letting go, I set myself free. Each new moment provides me with the opportunity to create my life.
SUNDAY TALKS
Aug. 4th- "The Power of Your Word" with Rev. Ron Card
Musician: Peggy Lebo
Aug. 11th - "The Mystic Way" with Rev. Kate DuVivier
Musician: Rick Dale
Aug. 18th - "Harmonious Flow of Giving & Receiving"
with Rev. Lori Mac
Musician: Lucille Park
Aug. 25th - "Nurture Your Name" with Rev. Ahmondra
Musicians: Cahill & Delene
* * * * * * * * * *
AUGUST Classes & Events
POTLUCK & EXTRA SHOT: Sunday, August 18th - 3320 Monroe St, Carlsbad
11:00 POTLUCK - Please bring a dish to share
11:30 EXTRA SHOT - "Giving & Receiving"
* * NEW CLASS * *
"Power of Your Word" with Rev. Ron Card 8 weeks beginning Wednesday, August 21st at 6:30pm. 3039 D Jefferson St., Carlsbad
This course teaches the fundamentals of prayer. You will learn why life-affirming prayer is answered and how it is answered. You will learn how to pray effectively and become aware of how you limit and interrupt your own prayers. When you complete this class you will have new prayer tools to work with. Cost of class: $165.00 Sign up today: 760-434-9579
"Treat Yourself to Life" with Rev. Kate DuVivier 8 weeks beginning Thursday, July 18th at 6:30pm 3039 D Jefferson St., Carlsbad
Summer time is the perfect time to get together and read Treat Yourself To Life by Dr. Raymond Charles Barker. It's powerful, yet straight-forward. Learn the joy of harnessing the Power for Good in the Universe with practical tools to use to bring results in your health, Prosperity, Relationships and creative expression! Suggested Tuition: $100 in advance, or $20/session
Sign up today: 760-434-9579
Rev. Dr. Matti Dobbs, Co-Spiritual Director
Rev. Kate DuVivier, Co-Spiritual Director
Rev. Catherine Bonin, Asst. Minister
Rev. Ron Card, Staff Minister
Rev. Ahmondra McClendon, Interfaith Liaison
Please join us this Sunday for a meditation at 9:30 am and the Sunday Service from 10-11am. We will celebrate with fellowship and refreshments on the patio at 11 am after the service.
SUNDAY SERVICES:
3320 Monroe St., Carlsbad, CA 92008
From Interstate 5, Drive East on Carlsbad Village Drive Exit. Turn Right on Monroe Street. Go 0.3 miles. Go through stop sign at Basswood and 3320 is on the Left! Look for the CSL sign out front.