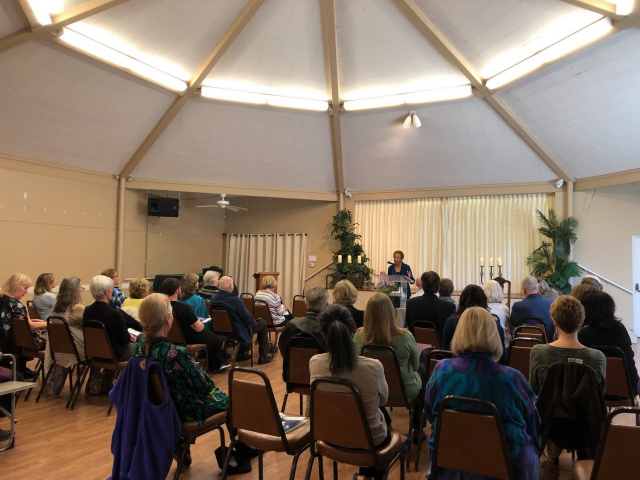 ---
A Message for You
Welcome! Are you ready to change your life? Are you ready for more happiness, more joy and more love? Are you looking for a non-judgmental positive group of individuals that come together in fellowship and community? Then my friends, you have come to the right place.
The Center for Spiritual Living Carlsbad provides the spiritual tools, support and practices to transform our lives and make the world a better place. We believe that as we change our thinking, we can change our lives.
Honoring all paths to God, we know that as we connect at a deeper level with Spirit, we are able to connect at a deeper level with others. That is just the beginning to greater happiness, expanded joy and increased love.
Get ready to embrace life at a new level as we wake up to our Divinity. Join us we support, guide and celebrate together this thing called life.
_______________________________________________________________
SEPTEMBER THEME: The Abundant Universe
SEPTEMBER AFFIRMATION:
I am on a fabulous journey and I am ready willing and able to enjoy it
right now!
SUNDAY TALKS
Sept. 1st- "Watch Your Attitude" with Rev. Ron Card
Musician: Joe Rathburn
Sept. 8th - "The Pearl" with Rev. Kate DuVivier
Musician: Lesley Alexander
Sept. 15th - "The Vibration of Abundance"
with Rev. Lori Mac
Musician: Michael Paul
Sept. 22nd - "My Hula Hoop" with Rev. Kate DuVivier
Musician: H. Charton
Sept. 29th - "I Choose My Experience" with Sal DeCasas, RScP
Musician: Lucille Park
* * * * * * * * * *
SEPTEMBER Classes & Events
POTLUCK - Sunday September 15 11:00am. Please bring a dish to share
Rev. Dr. Matti Dobbs, Co-Spiritual Director
Rev. Kate DuVivier, Co-Spiritual Director
Rev. Ron Card, Staff Minister
Rev. Ahmondra McClendon, Interfaith Liaison
Please join us this Sunday for a meditation at 9:30 am and the Sunday Service from 10-11am. We will celebrate with fellowship and refreshments on the patio at 11 am after the service.
SUNDAY SERVICES:
3320 Monroe St., Carlsbad, CA 92008
From Interstate 5, Drive East on Carlsbad Village Drive Exit. Turn Right on Monroe Street. Go 0.3 miles. Go through stop sign at Basswood and 3320 is on the Left! Look for the CSL sign out front.